The artist who succeeded to capture infinity-Yayoi Kusama.
One of the reasons that Yayoi Kusama is one of my favourite artists is not only the avant-garde nature of her work but actually the fact that she is a real-life example of what  Bukowski successfully quoted:  "Find what you love and let it kill you"
Seeing her work in London not long ago, was one of my most memorable experiences in this city until today. When I got the news that her work would come to London, my excitement was beyond words. Her art is absolutely phenomenal.
Yayoi was born in 1929 in Matsumoto City. She was part of a big family. Even from the age of ten, she was driven by her passion for drawing, which her parents were completely opposed to. According to her mother's will, she had to get married to someone from a rich family and become a housewife. When she mentioned that she wants to become an artist, her mum threw away all her stuff and said that if she wanted to keep painting, she had to leave the house and never come back, as Kusama admits.
With mountains of creative energy stored in her, Yayoi left her house in 1957, with a luggage full of her drawings, to travel to New York where her diversity could be embraced and bloom. As Yayoi recalls,
when I first arrived in New York, I went to the top of the Empire States Building. Seeing this Big City, I promised my self that one day I would conquer New York and make my name in the world with my passion for the arts.
In New York City, which at that time was considered to be the centre of the arts, she devoted herself to her work. She would be in her tiny studio and she would create the same repetitive pattern from dusk till dawn. Some of the canvases she was using would reach 33 ft and sometimes she would get so carried away that she would keep drawing outside of the canvas on the floor.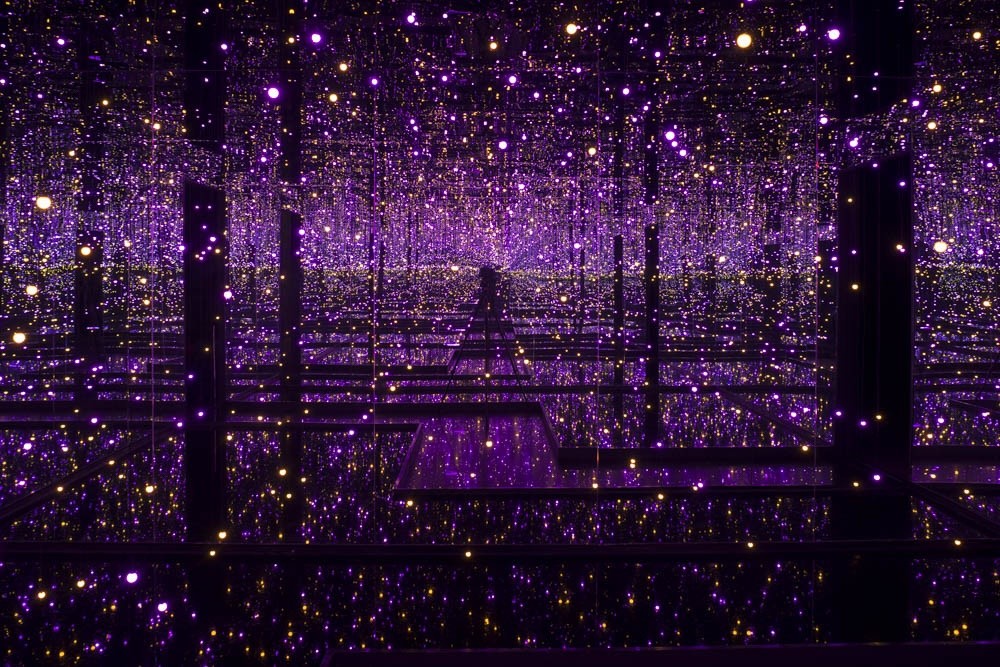 Although she had a really difficult time there, she kept the promise she made to herself and became famous within the male dominant art industry. She was so poor though, that on many occasions she couldn't even afford rent so she would find hers on the streets with all her stuff. During that time, Kusama created her first film with title "Self-Obliteration" with the help of Jud Yalkut. (https://www.youtube.com/watch?v=n6wnhLqJqVE)
In 1973 Kusama made the decision to move back to Japan. Although she had achieved her dream to conquer NYC, after almost 16 years, she felt overworked and fragile so she had to leave the U.S to recover. Her first symptoms of mental disorders appeared during this period of her life and until today Kusama has never stopped fighting stress, panic attacks and phobias.
After returning to Japan, she found herself starting from scratch. Eventually, she managed to become known worldwide through her collaboration with Louis Vuitton in 2012. Marc Jacobs, who was the main designer for the Brand, met Yayoi in 2006 and he just fell in love with her art.
The work of the high priestess of polka dots has been hosted around the globe in museums such as Tate Modern, MoMA and many more. She manages to take away someone's ability to focus and erase the boundaries of space. In my opinion, she is the only artist that has succeeded to capture infinity through her art. Visiting one of her exhibitions in London was a mind-blowing experience for me and I would recommend it to all the art lovers out there.
The last 40 years Kusama has been living in a mental institution. During the day she visits her studio which is across the street and continues to do what she loves to do. She has stated in one of her interviews in the past " the only way to escape reality is by staying creative and focused on my work". What I find incredible, is that despite the fact that her mind seems to be in a mystical and infinite universe, she still keeps trying to form her ideas in a language for the rest of us to understand.
 I love pumpkins because of their humorous shape, warm feeling and a human-like quality and shape- Yayoi Kusama
More info on Yayoi Kusama  and her work here:
https://www.moma.org/artists/3315
http://www.tate.org.uk/whats-on/tate-modern/exhibition/yayoi-kusama
https://www.victoria-miro.com/artists/31-yayoi-kusama/
http://yayoikusamamuseum.jp/en/about/museum/
Until next time x